George Ezra
Westonbirt Arboretum
17th June 2018


Tonight I headed down to Westonbirt Arboretum to watch George Ezra close the forest venues series of concerts, a series of concerts which has seen The Script, Paul Heaton And Jacqui Abbot and Paloma Faith play over 4 nights and having George Ezra close the live music at the venue for another year was a perfect decision as let's face it George Ezra is one of the most talented singer-songwriters in the music industry at the moment who is well spoken and has an incredible unique voice when singing and he is also one of the nicest guys in the music industry which everyone in attendance would have witnessed tonight.


George Ezra stormed the music scene back in 2014 when he released his debut album 'Wanted On Voyage' an album which saw him spend 4 weeks on the top of the UK album charts, an album which finished as the third bestselling album of 2014, an album which featured six hit singles consisting of 'Did You Hear The Rain', 'Budapest', 'Cassy O', 'Blame It On Me', 'Listen To The Man' and 'Barcelona', an album which was inspired by a trip Ezra took around Europe back in 2013.


Back in March of this year after a long wait George Ezra finally released his second studio album 'Staying At Tamara's' and the album has already been certified gold in the UK clocking up over 100,000 sales in no time at all after hitting the number one spot of the album charts on release and five singles have already been released from the album consisting of 'Don't Matter Now', 'Paradise', 'Pretty Shining People', 'Hold My Girl' and the most recent 'Shotgun'.

The show tonight was sold out many months in advanced so when I arrived at the
Arboretum in Westonbirt I knew it was going to be a busy night and I was right as the field they use for the Forestry Commission shows was packed, more full than I have ever seen it before but it wasn't uncomfortable as the Forestry Commission are good on the amount of people the venue can hold, when I arrived it was raining slightly but this didn't dampen the spirits of the fans in attendance as people were sat around the field in their camping chairs having a few sociable drinks whilst waiting patiently for George Ezra to take to the stage.


Luckily when George Ezra took to the stage at 9pm the rain had gone and the thousands of fans jumped out of their chairs and moved a bit closer so they could fully emerge themselves in the next hour and an half of George Ezra live in concert and as soon as he and his brass backing band opened up with fan favourite 'Cassy O' the venue erupted into a massive party atmosphere with so many people dancing and singing-a-long in such an energetic way.


When playing live George Ezra has a lot of time for his fans and makes sure to talk to his fans before each and every song, mainly to tell a story of what inspired the song or a bit of background of where it was recorded etc and his stories tonight got a good reaction from the crowd with many moments gaining cheers and giggles from the crowd.

Musically Ezra treated the crowd to a nice 17 song set which featured songs from both albums and songs such as 'Barcelona', 'Listen To The Man', 'Hold My Girl', 'Blame It On Me' all got a big energetic reaction from the crowd but it was recent single 'Paradise' which really got the party
started as the song is easily the most infectious sing-a-long song of the year so far and also the perfect soundtrack for the summer.

The main set came to a close with Ezra's most recent single 'Shotgun' a fun song about riding in the front passenger seat of a car, a song which had the crowd bouncing along whilst clutching their phones in the air filming their blurry memories of the song.

After a short break Ezra took to the stage again for a short encore and before you knew it, it was time for the song everyone had been waiting for 'Budapest' which saw tonight's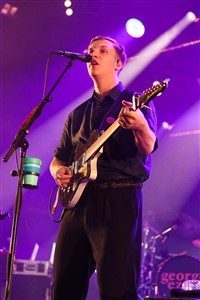 well entertained crowd sing-a-long with Ezra one last time and it was perfect hearing thousands of people sing "Give me one good reason Why I should never make a change, and baby if you hold me then all of this will go way".

It was an absolute pleasure watching George Ezra tonight, he is such a talented singer-songwriter who has worked so hard for the success he's got and he will be heading back out on the road in November for his already sold out 'Staying At Tamara's' tour which will see him play an handful of venues across the UK including his biggest show to date at London's Wembley Arena.

As always the Forestry Commission brought a great selection of shows to Westonbirt Arboretum this year and the weather was on their side for the majority of the time and I can't wait to see how they are going follow on from the talented selection of artists they had playing this year for their 2019 events.

George Ezra – 5/5

Review By Trigger