The Front Bottoms
The Smith Street Band, Brick And Mortar
Bristol, Academy
27th February 2018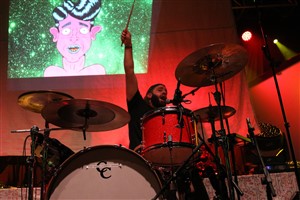 As the beast from the east batters the UK with snow, ice and super cold weather in the minuses I travelled down to Bristol to see American indie rockers The Front Bottoms bring their headline show to the Academy and as I got to the venue hundreds of fans were also braving the cold queuing patiently outside the venue.

For their headline tour The Front Bottoms brought New Jersey rock duo Brick And Mortar and also Australian rockers The Smith Street Band out on the road with them and after doing a bit of research of these two bands before the show I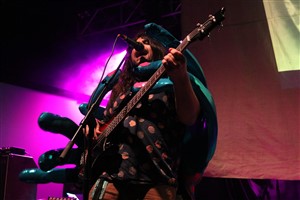 knew that tonight was going to be an full on entertaining show and I was so right.

Opening the show tonight were Brick And Mortar, a band who have to be one of the most random yet entertaining bands I have seen in a long time and are made up of Brandon Asraf who covers lead vocals and bass duties, John Tacon who covers drums, electronic samples and backing vocals and also Richie Brown who covers visuals and pure entertainment for their lives shows with his suitcase full of tricks.


Brick And Mortar have been on the music scene since 2008 and are a proper DIY band who have released various singles and ep's through the years and pretty much done everything on their own, musically the band mix electronic samples with indie grooves and reggae vibes, on paper this mixture sounds random but it works very well especially on the live circuit when you have Brandon Asraf smiling from ear to ear throughout the set, drummer Brandon Asraf bouncing up and down from his drum stool encouraging the crowd to get involved and then touring member Richie Brown controlling all the crazy
yet impressive visuals on screen whilst opening his suit case of tricks which sees him dance across the stage with gigantic blue hands, pop a massive balloon full of confetti on the front row of the crowd, hold a big sign up which says "locked in a cage" whilst dancing topless spinning his nipple tassels round.

Songs like 'Terrible Things', 'Locked In A Cage' and set closer 'Train' prove that Brick And Mortar are good song writers and their performance tonight show that Brick And Mortar want to be unlike any other band on the scene at the moment and they do just that with the help of Richie Brown who helps turn their live show into a mini theatrical performance which is utter bonkers and full of a laugh a minute.


Up next were Australian rockers The Smith Street Band, a band who have been on the music scene since 2010 and have toured with The Front Bottoms various times over the years including having The Front Bottoms support them on a lengthy Australia tour and them support The Front Bottoms on a lengthy American tour and it totally makes sense as The Smith Street Band musically are so similar to The Front Bottoms making them a perfect touring double act.


You would think following on from the bonkers opening set from Brick And Mortar would be tough but luckily for The Smith Street Band they let their music do the talking as they played a 9 song set with half of the set featuring material taken from their latest studio album 'More scared Of You Than You Are Or Me' with the rocking single 'Death To The Lads' opening their set.

As their set progresses The Smith Street Band play solid songs like 'Passiona', 'Surrey Drive', 'Sigourney Weaver', 'Birthdays', 'Young Drunk', 'Shine', 'Surrender' and even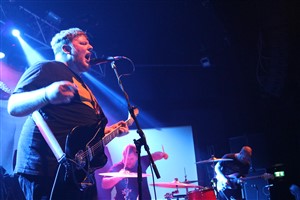 throw some riffs in of Metallica's 'Enter Sandman' and also playing short moments of The Front Bottoms songs which really excites and warms the crowd up.

The Smith Street Band bring their set to a close with 'Throw Me A River', the title track from their third studio album released back in 2014 and it was the perfect way to bring their set to a close as the song starts of sleepy sounding yet finishes in a big rocking way with big riffs and loud vocals from front man Wil Wagner.


I last saw The Front Bottoms last July when they supported Blink 182 at the Motorpoint Arena in Cardiff and they put on a great show however I felt that they didn't suit the massive arena setting and also being a support band their lighting and stage show was basic, hence why I was excited to see them at their own headline show.

As soon as The Front Bottoms took to the stage they were greeted by massive cheers from the crowd and smashed straight into their opening track 'You Used To Say (Holy Fuck)' which also happens to be the opening track from their latest album 'Going Grey' with an extended version of the artwork for that album being the
backdrop on the stage tonight with a giant pair of boobs being situated perfectly behind drummer Matthew Uychich, it didn't take long until the whole of the Academy were shouting "Holy fuck" at the top of their lungs.

For their own headline tour it was like The Front Bottoms brought out the full package as instead of just having key band members Brian Sella (vocals, Guitar), Mathew Uychuch (drums) and Tom Warren (guitar, vocals) on stage they also had touring band members Jenn Fantaccione (violin, trumpet, cello, backing vocals),Roshane Karunaratne (keys, melodica, keytar) and Erik Kase Romero (bass) on stage with them which along with the
epic strobe lighting, massive screens showing various different videos, imagery and live moments of the gig really gave you that full on live experience.

Through their hour and an half set The Front Bottoms managed to play a massive 24 songs and it was a big mixture of new and old songs and it was so good to hear the crowd participation for newer songs such as "Peace Sign', 'Everyone But You', 'Vacation Town', 'Far Drive' as it proves that The Front Bottoms still have the amazing song writing skills they had when they first came on the scene back in 2007.


The Front Bottoms are a fun band who have a lot of time for their fans and towards the middle of their set a member of the audience threw a pair of sunglasses on stage and Brian Sella put them on and said he will wear them for 1 song but then ended up wearing them for the majority of their set where a few songs later he decided to take song requests from the crowd with so many song names being shouted out with 'Peach', 'Plastic Flowers' and 'Lipstick Covered Magnet' being the chosen requested songs.


Older songs such as 'Flashlight', 'Maps', 'Au Revoir (Adios)' and set closer 'Twin Size Mattress' got the biggest reactions of the night with the songs being taken from their super popular self-titled and 'Talon Of The Hawk' albums, during these songs friendly mosh pits formed, lone gig goers let out their finest dance moves and everyone sun word for word with Brian Sella who easily has one of the most unique vocals on the music scene.


After a short break Brain Sella came back on stage alone and started playing 'Twelve Feet Deep' and within a couple of minutes Jenn Fantaccione joined him on stage and before you knew it the rest of the band were back on stage as they finished the song and went on to play 'Wolfman' and 'Going Grey' album closer 'Ocean' which brought the show to an end in a stripped back sing-a-long way.

Overall Brick And Mortar played a set the crowd will never forget, The Smith Street Band perfectly got the fans ready for The Front Bottoms and The Front Bottoms came out and gave their fans exactly what they wanted tonight a huge night of fun and entertainment as they played massive greatest hits set and judging by the huge smiles in the venue when the band left the stage it's safe to say the fans were truly entertained.



Brick And Mortar 4/5
The Smith Street Band 4/5
The Front Bottoms 5/5

Review By Trigger