Brian Fallon
Dave Hause
Bristol, SWX
25th February 2018


2018 is a massive year for Brian Fallon as he recently announced that The Gaslight Anthem are back together to play some festivals and headline shows across the summer to celebrate the 10th anniversary of their '59 Sound' album, with tickets to the headline shows selling out in hours and the festival shows gaining a lot of interest from The Gaslight Anthem fans, Brian also recently released his second solo studio album 'Sleepwalkers' on the 9th February through Island Records and has been on the road touring since, a tour which will see him play shows across the UK, Europe and America.


I headed down to SWX in Bristol tonight to see the final show of Brian Fallon's UK tour before the tour heads to mainland Europe, I got to the venue as soon as the doors opened at 7pm and there was a massive queue wrapping around the venue and running up to the entrance to the nearby multi-storey car park, luckily for the hundreds of fans queuing outside the one and only support act of the night was not on until 8pm so it gave everyone time to get into the venue in time for Dave Hause.


I first had the pleasure of seeing Dave Hause on the live circuit back in 2012 when he supported Alkaline Trio on their lengthy UK tour, a tour I which I attended numerous shows of and instantly became a fan of Dave Hause and since then he has returned to the UK so much that it's like the UK is his second home with him touring the UK 5 times over the past 12 months which is an amazing achievement.

Over the past few years Dave Hause has toured completely solo and also toured with his backing band called 'The Mermaids' however tonight it was just Dave Hause and his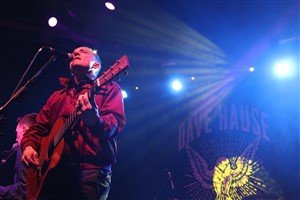 brother Tim Hause who is equally as talented as Dave., with Tim Hause playing the guitar, keyboard and mandolin with ease through the set with DaveHause telling the crowd how he asked his brother to learn the Mandolin in a week before the tour and he did just that and perfectly demonstrated his skills tonight.

Dave Hause had a 40 minute set tonight and managed to play 9 songs within that time, opening with 'Shaky Jesus' which featured both Dave and Tim on guitar, the show continued with the impressive 'C'mon Kid' which saw a good portion of the crowd singing-a-long whilst Tim played the keyboard, as the set progressed Dave
took over keyboard duties for the epically infectious 'We Could Be King's, and soon after had a rant about Donald Trump whilst blasting straight into 'Dirty Fucker' straight after, towards the end of the set Dave Hause paid tribute to the late Tom Petty with an thrilling cover of 'I Won't Back Down' before closing the set with 'With You'.

After a short change around of equipment on stage Brain Fallon And The Howling Weather take to the stage to huge cheers as the venue is packed to the rafters with such a diverse crowd waiting for their hero Brian Fallon to entertain them for the next 90-120 minutes.


Brian Fallon opens the show up tonight with 'A Wonderful Life' the first single to be taken from his debut solo album 'Painkillers' and within seconds of hearing his big catchy unique vocals you just know that the next couple of hours are going to be epic and that is exactly what they are Brain Fallon And The Howling Weather are such a tight sounding collection of musicians who have such a solid catalogue of material to play thanks to Fallon's amazing song writing skills and equally as amazing vocals.


Through their near 2 hour set Brian Fallon And The Howling Weather play a massive 21 songs which see's songs being played from both his solo albums 'Painkillers' and 'Sleepwalkers' as well as material from some of his other projects such as The Horrible Crowes, Molly And The Zombies, The Gaslight Anthem and even U2, but the majority of the set is made up with songs from his recently released second studio album 'Sleepwalkers'.


Doing his own solo shows Fallon seems more at ease as he has a lot of time for his fans and interacts with the crowd a lot yet sometimes he gets lost in what he's saying and goes on a ramble and before you know it 10 minutes have flown by and he is still having banter with the crowd, talking about different accents, ranting about the president and talking about how he would like to be a pirate because you can drink rum all day not wash and not brush your teeth because that's what pirates do, it was good to see Brian relaxed with his fans and having a laugh on stage but for some it seemed a bit over kill with a few
frustrated members of the audience shouting "play a fucking song" over and over again with Fallon taking it well and completely ignoring the hecklers and continuing with his stories.

It was good to hear new songs like 'Forget Me Not', 'If Your Prayers Don't Get To Heaven', 'Come Wander With Me', 'My Name Is The Night (Color Me Black)', 'Sleepwalkers', 'Etta James', 'Watson' and 'See You On The Other Side' being played and the crowd knowing each and every one of these songs word for word considering the album has only been out for a matter of weeks.


Towards the end of the set Fallon played a reworked stripped back version of 'The 59 Sound' and it sounded emotionally amazing and it was so good to hear the whole venue sing their hearts out to the song, the set came to a close with a cover of U2's 'I Still Haven't Found What I'm Looking For' a song which saw Brain Fallon And The Howling Weather and both Tim and Dave Hause take to the stage for a massive sing-a-long and what a way to end the show and also end their UK tour.


Overall tonight was a fantastic night of music, Dave Hause did a great job of warming the crowd up and Brian Fallon did exactly what Brain Fallon always does and entertained everyone for the best part of 2 hours whilst proving that rock n roll is alive and kicking and will be for a very long time. Tonight's show also reminded me of when Brian Fallon, Dave Hause, Dan Andriano and Chuck Ragan brought the Revival Tour to the UK a tour which was probably the best free flowing rock n roll package to tour the UK and a tour that I would like to be revived in the near future.

Dave Hause 4/5
Brian Fallon 5/5

Review By Trigger