Fireball Fuelling The Fire Tour 2017
Reel Big Fish, Anti-Flag, Mad Caddies, Sweet Little Machine
Bristol, Academy
12th October 2017


Last October the Fireball Fuelling The Fire Tour was launched and was an tour featuring Less Than Jake headlining and The Skints, Mariachi El Bronx , Kemri , The Bennies and competition winners Sweet Little Machine as support and Matt Stocks doing a DJ set in-between acts and the most exciting thing about the tour was the price being only £10 to see all these amazing bands and also the chance to get free shots of Fireball and generally cheap drinks at all shows on the tour, the tour played out to 8 Academy venues across the country and was an massive success with all shows selling out well in advanced.


This year Fireball are celebrating their second anniversary of the Fireball Fuelling The Fire Tour and once again have an awesome line up ok ska, punk and rock with Reel Big Fish headlining and Anti-Flag, Mad Caddies, Sweet Little Machine supporting and a local band opening up the tour every night 10 minutes after the venue doors have opened, and this year the tour has slightly expanded with it playing out to 10 different cities across the UK and still being a wallet friendly £10 which once again saw the shows sell out really far in advance.


Tonight we headed down to the Academy in Bristol to check out the second night of the tour and we got into the venue half way through Sweet Little Machine's set, a band who have been named Fireball's hottest band of 2017 after winning a competition to open up for the whole tour in 2016 and carrying on to impressive Fireball and people within the music industry.

Sweet Little Machine's played to a quarter filled venue and they never let the lack of people in the venue put them off and played a solid set like they were playing to a packed venue and out of the three songs I managed to hear the set closer 'Monsters' which also happens to be the band's latest single and title track from their new EP was easily up their as one of the most infectious pop-punk songs I have heard in a long time and it definitely brought the crowd to life and encouraged a lot of bouncing as the band jammed their way through and unleashed epic gang vocals as confetti from two confetti canons went off and filled the whole room in confetti ending the set perfectly.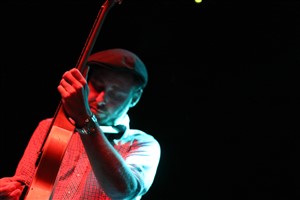 Up next were Fat Wreck Chords legends Mad Caddies a six piece band who have been on the music scene for over 20 years now and have released six studio albums and various different ep's in that time and have clocked up a solid fan base doing so and tonight they took to the stage with a massive banner behind them of a sugar skull and the Mad Caddies logo and kicked proceedings off with 'Lay Your Head Down' a massive sounding ska-punk song with an hint of reggae and it certainly got the crowd moving.


By the time the Mad Caddies were half way through their set the venue was packed to the rafters with people carrying a couple of pints at a time taking advantage of the cheap ticket prices and investing their money on drinks to ensure they have a massive party and the Mad Caddies helped to encourage this by shouting out to the crowd on a number of occasions asking "who's here to party with us" before unleashing yet another infectious ska-punk number.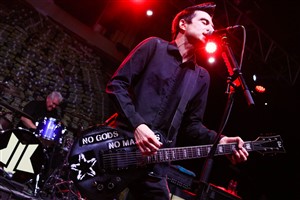 The highlights of The Mad Caddies set was easily the well-constructed and circus sounding 'Monkeys' the slow paced 'Drinkin for 11' which really came to life with the catchy chorus of "gotta try gotta try for tomorrow, you can't see through today", the fast and furious 'No Hope' which reminded me so much of British Ska-punk legends Farse, and not to forget the set closer 'Distress' which gave the crowd a final chance to sing-a-long.


Up next were the mighty Anti-Flag a four piece political punk band from Pittsburgh Pennsylvania, who have also been in the music scene for over 20 years and in that time have released a massive 12 studio albums including their recently released 'American Fall' album.

Now I have seen Anti-Flag on the live circuit many times in the past and have always been impressed with them however tonight they were at the top of the game and totally smashed their 40minute set, from the opening riff of opening track 'Press Corpse' right up until the final lyric of set closer
'Brandenburg Gate' Anti-Flag had the crowd on their side as they unleashed their political punk to the best of their abilities with so much energy being used on stage and equal amounts of energy being used off stage with the crowd kicking off circle pits at Chris #2's commands.

In their 40 minute slot Anti-Flag managed to play a mini greatest hits set and between each and every song they had a justified political rant about everything that's wrong In the world at the moment with a lot of aggression shown towards the rapidly rising numbers of Nazi's and their dislike to Donald Trump and the way America is being run at the moment.


Songs like 'Fuck Police Brutality', 'Turncoat', 'This Is The End (For You My Friend), 'American Attraction', '1 Trillion Dollars' and 'Die For The Government' perfectly showed off that Anti-Flag have a lot of beef with many different things in the world and lyrically each and every one of these songs gave a truthful message a message came across in the strongest possible way due to the sheer energy and loudness these songs were played at.


Members of Reel Big Fish joined Anti-Flag on stage for 'When The Wall Falls' a song which really benefited from the horns section of Reel Big Fish and a song which really helped give Anti-Flags set a bit of a party atmosphere, later on in the set Anti-Flag even smashed out a cover of The Clash's 'Should I Stay Or Should I go' and it went down an absolute storm.

Anti-Flag brought their set to a close by bringing their drums into the crowd with Chris #2 and Pat Thetic taking to the crowd to finish the set as the set came to a close with an epic chant of "I will wait at the Brandenburg Gate, at the Brandenburg Gate I'll wait".


Up next were headliners Reel Big Fish a band who make sure to tour the UK at least once a year and always manage to bring a proper party atmosphere with them and also give us all the feel of an Hawaiian summer party due to front man Aaron Barrett keeping to tradition and always wearing an Hawaiian shirt and sun glasses.

Reel Big Fish were on top form tonight as always and came and played the songs that everyone expected as the crowd went nuts from the moment Reel Big Fish took to the stage and they started off with 'Somebody Hates Me' which was nicely followed up by 'Everyone Else Is An Asshole', 'Trendy' and their epic cover of Toots And The Maytals 'Monkey Man'.


The whole of Reel Big Fish's set was massive party as people from the Fireball Fuelling The Fire crew came out and threw loads of blow up balls into the crowd as Reel Big danced and skanked their way through their set as the crowd also danced their way through the set in the pit trying their best not to spill their pints and shots of Fireball.

As always Reel Big Fish knocked out many cover songs such as Van Morrison's 'Brown Eyed Girl', 'A-ha's' 'Take On Me' and a medley of 'Smells Like Teen Spirit, My Own Worst Enemy , 500 Miles and The Impression That I Get' and its moments like this that make you realise just how much Reel Big Fish love being on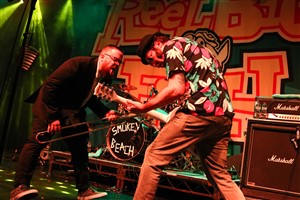 stage and how much they love bringing the party to different towns and cities across the world and it is something they have been doing for over 25 years and I hope it's something they continue doing for another 25 as there really is no show like an Reel Big Fish show.

The classics 'Sell Out' and 'Beer' got played towards the end of the set and the whole venue erupted into madness as these two classic Reel Big Fish numbers are played back to back and in true Reel Big Fish style the show came to an end with a fantastic cover of A-ha 'Take On Me'.


Overall The Fireball Tour reminds tour was fantastic value for money for the fact that five bands were on the bill and the show cost £10 which works out £2 per band and let's face it there is not much you can buy for £2 or even £10 these days.

Sweet Little Machine did a good job of warming things up, Mad Caddies got the party started, Anti-Flag were easily the band of the night for me and a band I can't wait to see on the live circuit again and as for Reel Big Fish they came and ensured the whole venue partied hard and had the time of their lives.

Sweet Little Machine 3.5/5
Mad Caddies 4/5
Anti-Flag 5/5
Reel Big Fish 4.5/5

Review By Trigger