New Found Glory
Roam
Bristol, Academy
5th October 2017


This year New Found Glory are celebrating being together for 20 years and to coincide with that they recently released their ninth studio album 'Makes Me Sick' and have also been busy out on the road touring the 20 years of pop punk tour which is a lengthy tour which is hitting pretty much the whole of the world and see's New Found Glory play a 6 out of their 9 albums in their entirety in each country with 2 albums being played each night plus a few other classics for good measures.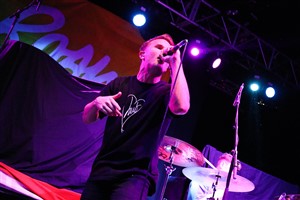 Tonight I headed down to Bristol Academy to catch the tour and it was a special night as New Found Glory were playing their 'Sticks And Stones' and 'Catalyst' albums, two albums which were the soundtracks of my summer when they were released back in 2002 and 2004.

The one and only support band tonight were Roam who happen to be a band from Eastbourne England who signed to Hopeless Records back in 2014 and are now gearing up to release their second studio album 'Great Heights And Nosedives', they had a 30 minute set tonight and displayed a lot of energy on stage and did a good job of warming up for New Found Glory whilst
playing a mixture of older songs as well as a couple from their forthcoming second studio album, with 'Alive', 'Cabin Fever', 'Deadweight' and 'Hopeless Case' being the highlights.

New Found Glory were due to take to the stage at 9pm tonight and a few minutes before the lights dimmed and Rick Astley 'Never Gunna Give You Up' was blasted from the speakers to pure excitement from the sold out crowd as well as the security guards who were having the time of their life at the front of the venue making up little dance moves with each other and encouraging the crowd to participate and before you knew it Cyrus Bolloki, Chad Gilbert, Ian Grushka and Jordan
Pundik took to the stage and started off their lengthy 27 song set with fan favourite 'Understatement' which perfectly set the pace for a night of pure pop-punk.

Up next was 'All Downhill From Here' a song which got massive participation from the crowd and a song which made us all realise that instead of playing the two albums in full back to back, New Found Glory had different plans and were mixing the set up where they played both albums in full but in a totally random order to keep the show fresh, exciting and full of surprises.


Performance wise New Found Glory were on top form, Jordan Pundik spent the whole set charging the stage unleashes his unique infectious vocals, Cyrus Bolloki did an impressive job with his mascot Animal smashing the hell out of his drums, Ian Grushka also spent the majority of the set moving around the stage energetically whilst taking time to pose for the photographers and the fans in the crowd with their camera phones at any giving opportunity and Chad Gilbert did the majority of the talking between songs and thanked the fans for supporting the band through the years and also did an emotional speech about the recent tragedy in Las Vegas and dedicated the song 'Sonny'
to everyone effected by it.

So many classic songs were played tonight such a 'Never Give Up', 'Truth Of My Youth', 'The Great Houdini', 'Belated', 'Failures Not Flattening', 'Your Biggest Mistake', 'No News Is Good News', 'Head On Collision', 'This Disaster', 'I Don't Wanna Know', 'Forget My Name' and also recent single 'Happy Being Miserable' from their latest album 'Makes Me Sick' which happens to be the only song of the night played from that album.

The band and fans sung their hearts out for over an hour and an half and like all good things they must come to an end and tonight's show came to an end with the ever so
infectious 'My Friends Over You' a song which was an anthem for so many people when it was originally released back in 2002 and I am pretty sure that after experiencing the massive sing-a-long from the crowd tonight but especially during 'My Friends Over You' so many people will be waking up with a sore throat and ropey voice in the morning.

When it comes to pop-punk New Found Glory are one of the greatest, they may not of reached the dizzy heights of bands such as Green Day and Blink 182 and also more newer bands such as All Time Low but they have always been fun and consistent and academy sized venues are the ideal venues for New Found Glory and venues that they will repeatedly sell out on visits to the UK and I am sure they will be back in the UK within the next 12 months as they have a whole new album of songs to play with the recent release of album number 9 'Makes Me Sick'.

Roam 3/5
New Found Glory 5/5


Review By Trigger